West lake of Hangzhou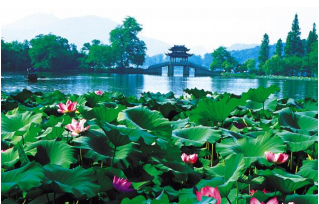 The West Lake of Hangzhou is the only lake in China that enjoys the World Cultural Heritage status, enjoying an international reputation for its idyllic scenery and plentiful cultural spots in its territory. To enjoy West Lake's natural charm, begin with the Top Ten Scenes: Spring Dawn at Su Causeway, Lotus in the Breeze at Crooked Courtyard, Autumn Moon over the Calm Lake, Lingering Snow on the Broken Bridge, Orioles Singing in the Willows, Viewing Fish at Flower Pond, Three Pools Mirroring the Moon, Twin Peaks Piercing the Clouds, Evening Bell Ringing at Nanping Hill and Leifeng Pagoda in Evening Glow.
Qinghefang Historical Street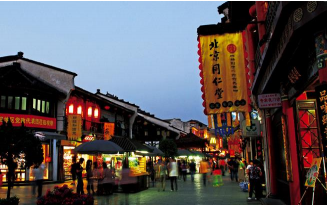 Tucked away at the southern end of downtown Hangzhou, Qing hefang Historical Street is the best place in Hangzhou to buy souvenirs and sample local delicacies. It was the imperial boulevard during the Southern Song Dynasty. The main thoroughfare is lined with shops selling traditional crafts like silk, fans, chopsticks, snacks, tobacco, ham, tea, umbrellas, scissors, ham and clothes. it is also a center of fun and games. You can see Chinese yo-yo tricks, antique puppet shows and clay and stone sculpting here. For global-trotting foodies, it is a heaven. Various snacks offered here may challenge your definition of culinary propriety, including duck heads, silkworm pupae on skewers, giant snail, scorpions, chicken feet, pigs' feet and numerous stews bobbing
with unmentionables. It is not for the fainthearted.