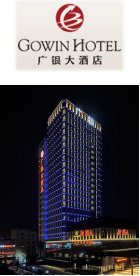 Workshop is sponsoring room (incl. taxes) for up to 7 nights from (check-in) Nov. 2, 2016 to (check-out) Nov.10, 2016. Your room has been booked under your name and our staff will be waiting at the hotel lobby to assist your check-in process.
 Trainee will have single room each person.
 Expenses of extra nights staying at the hotel should be taken care of by the participants themselves or their organizations.
 Standard check-in time is 10:00 AM and check-out time is 2:00 PM.
Addr: GoWin Hotel, No. 520 Shangtang Road, GongShu District, Hangzhou 310015, Zhejiang, China
Tel: + 86 - 571-81135555 or +86 - 571-81960909
Dining
 Morning: Breakfast Buffet on Floor 1, GoWin Hotel.
 Lunch/Dinner/Banquet: Room 220, Floor 2, GoWin Hotel.
Weather
November in Hangzhou is cool and humid. The average daily temperature is about 11 to 20 Celsius .
Time Difference
The time zone in Hangzhou is GMT+8 hours.
Electricity
The electricity supply in China is 220V, 50Hz. Two types of sockets are used: three
pin socket (a grounding pin and two flat prongs forming a V-shape) and two-pin
socket (two flat parallel prongs without grounding).
Currency Exchange
The Renminbi (literally "people's currency") is the legal tender in the mainland of
the People's Republic of China. The official abbreviation is CNY, although also
commonly abbreviated as "RMB". Local bank may have limitations in currency
exchange for foreigners. The exchange rate at present (2016) is roughly US $1 = 6.78
Chinese RMB. When exchanging money, please keep your exchange memo so that
you can convert any remaining Chinese currency back to foreign currency upon
leaving China. Visa, MasterCard, American Express, Diners Club and JCB are
accepted in many department stores and hotels. It may be difficult to withdraw cash
with credit cards. Banks and most hotels can cash traveler' check issued by many
foreign banks or financial institutions. Participants will need to show their passport.
Insurance
Participants are advised to purchase adequate travel and health insurances before
leaving their own countries. The conference organizers do not accept any liability for
personal accidents or loss or damage to the private property of any participants
during the conference or indirectly arising from attending the conference.