The IKCEST International Symposium 2018, with "Next Generation Artificial Intelligence and Knowledge Service" as its theme, was held in Deqing on October 26, 2018. The symposium is co-hosted by UNESCO and the Chinese Academy of Engineering (CAE) and organized by IKCEST and People's Government of Deqing County and so on.

The opening ceremony was presided over by WANG Qinying, Secretary of CPC Deqing County Committee. LI Xiaohong, CAE Member and President of CAE, WANG Wenxu, Vice Governor of Zhejiang Province, and Philippe Pypaert, Programme Specialist of UNESCO Beijing Office, attended and addressed the opening ceremony. CHEN Zuoning, CAE Member and Vice President, PAN Yunhe, CAE Member and former Executive Vice President, Professor Raj Reddy, Turing Award winner, and more than ten Chinese and foreign academicians and business representatives attended the conference. An audience of over 400 people, including representatives from government agencies, scientific research institutions and enterprises as well as foreign students, participated in the conference, and over 16,000 people watched the conference live at live.ckcest.cn.
President LI Xiaohong discussed the new features of AI development in the new stage in his speech. He said, the Chinese government attaches great importance to AI development. As a national think tank, the CAE pays close attention to this future-shaping strategic technology and has conducted a series of major strategic consulting and research projects, providing scientific support for the government to make policy decisions. President LI commended the work of IKCEST and shared his expectation for the organization. He encouraged the delegates to speak their mind, share their knowledge, seek consensus, and work together to "sprint" on the road of artificial intelligence, and harness the power of AI to the greater benefit of mankind.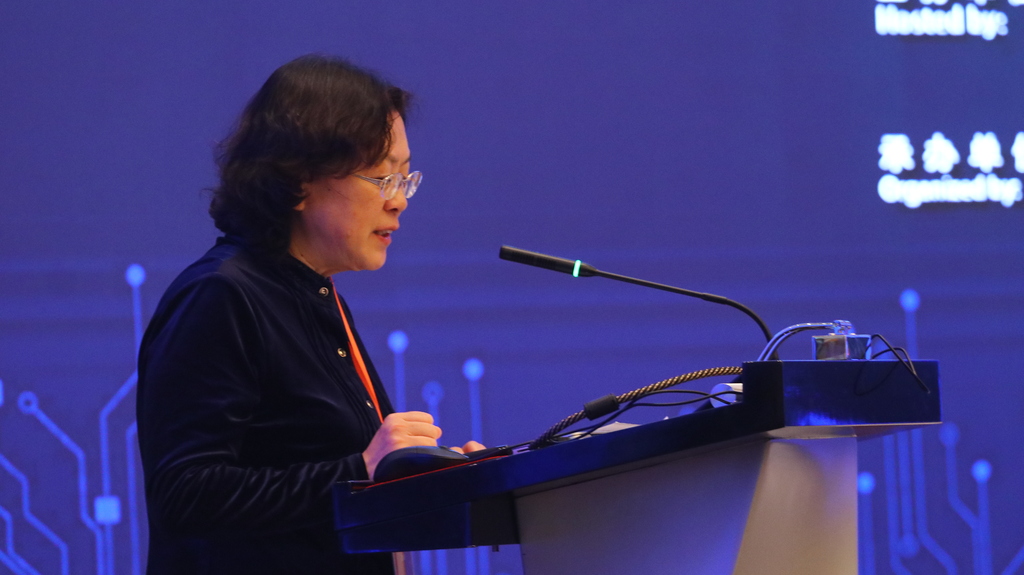 On behalf of Zhejiang province, Vice Governor WANG Wenxu mentioned, this symposium contributes to the innovative environment and also plays a positive role in the development of AI in Zhejiang with far-reaching impacts.
Mr. Philippe Pypaert expressed his gratitude to the IKCEST for its committed work and noticeable contribution. He said, UNESCO also thinks highly of next generation AI technology, and any further communication and cooperation would be warmly welcomed.
Focused on the theme, CAE Member PAN Yunhe, Professor Raj Reddy, CAE Member WU Zhiqiang, Otthein Herzog, Member of the German Academy of Science and Engineering, Yoshikazu Nakajima, Member of the Engineering Academy of Japan and Mr. WANG Haifeng, Senior Vice President of Baidu, LIN Fan , Founder and CEO of Maimai and Sung Ho YOO, director of Kakao Corp of South Korea made presentations at the symposium respectively from the perspectives of theories and applications.
The morning session of the symposium was moderated by CAE Member LI Guojie. Professor PAN Yunhe , analyzed a number of new trends of robotics based on in-depth research on AI 2.0. The first trend is the transition from robotics to autonomous intelligent systems. The second trend is the hybrid-augmented intelligence based on human-machine collaboration.
Professor Raj Reddy provided background and history of AI in an attempt to clarify the sources of misinformation about AI in the media recently. In his speech, he introduced the architecture of two types of Intelligent Assistants. Cognition Amplifiers would enable humans to do many daily tasks faster and with less effort. Guardian Angels would provide humans with superhuman capabilities and enable humans to do tasks previously impossible.
Prof. WU Zhiqiang presented that the New Generation AI City was further supported by the latest database tool "City Tree" and the city simulation system "City Go" was trained on this basis, using machine learning technology. Eight most advanced city simulation tools for urban population distribution simulation, urban land use simulation, natural resource simulation, public service simulation, urban density simulation, city image simulation and industrial space simulation, respectively, were developed and would be applied to the planning and operation of the world's first AI town.
Mr. WANG Haifeng gave a deep analysis of Baidu Brain. It has made breakthroughs in the core technology of deep semantic understanding of multimodal data covering speech, image, and natural language, on the basis of large-scale cross-media knowledge graph fusing multi-sourced heterogeneous data etc.
The afternoon session was moderated by Prof. WU Zhiqiang. Prof. Otthein Herzog illustrated that connections of ontologies to approaches like DBPedia had proven to be useful at an application domain level. These approaches could be extended to Knowledge-as-a-Service functions within vibrant domain ecosystems as a precondition to keep the knowledge bases of an application domain up to date.
Prof. Nakajima proposed an autonomously networking method of small and weak AI computers in his speech. It presented a method of data and processor identification and an inference method to combine one and another.
Mr. LIN Fan gave an introduction to the exploration of great potential of AI in helping white-collar worker's career, including the close connection in people's social contact, as well as acquiring high value information.
Mr.Sung Ho YOO shared overview of the Korean smart speaker landscape and expressed that the vast service portfolio offered by Kakao would in the end create lasting value and utility to the users in their everyday lives.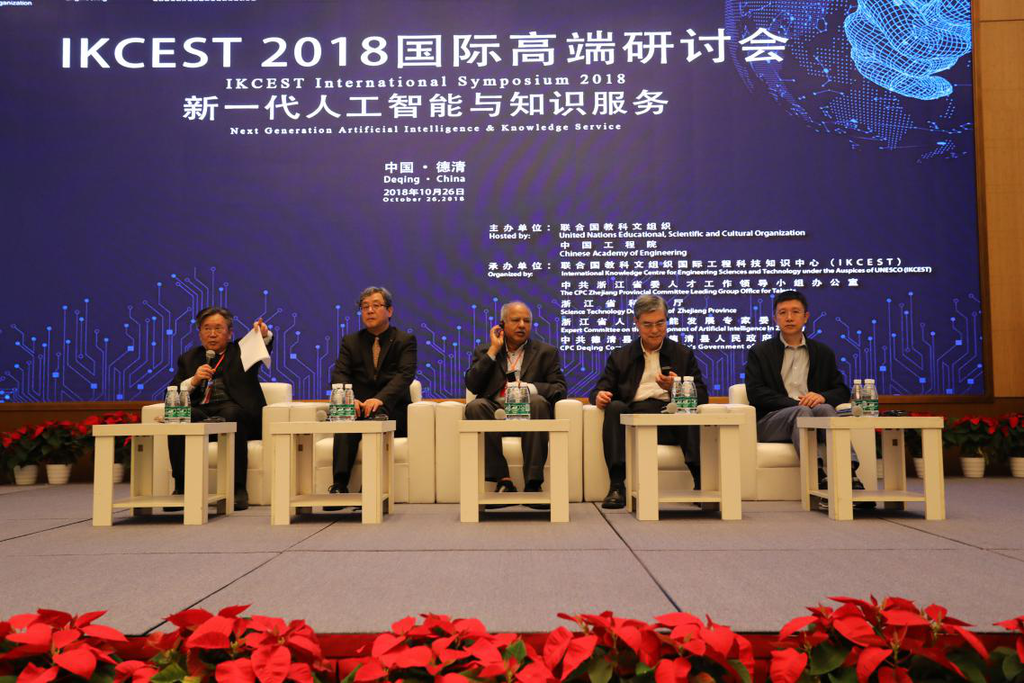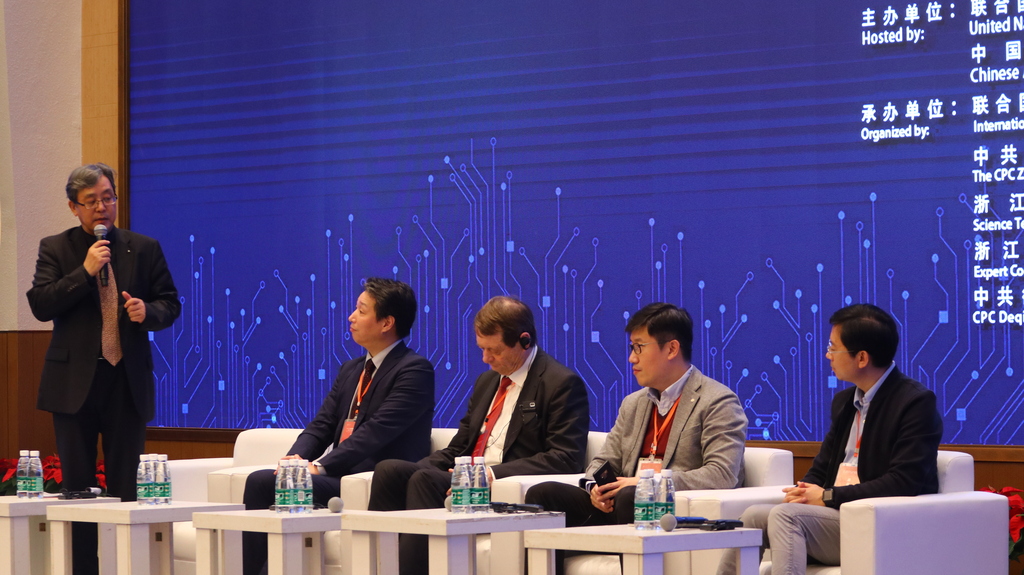 During the panel discussion, the moderators and speakers answered the questions from the audience and had an in-depth exchange of views with them.
The symposium provided a platform for communication between top-class experts, scholars, outstanding entrepreneurs and participants from all over the world, making positive contributions to the in-depth cooperation of engineering science and technology circles at home and abroad in the fields of knowledge service, big data technology research and artificial intelligence.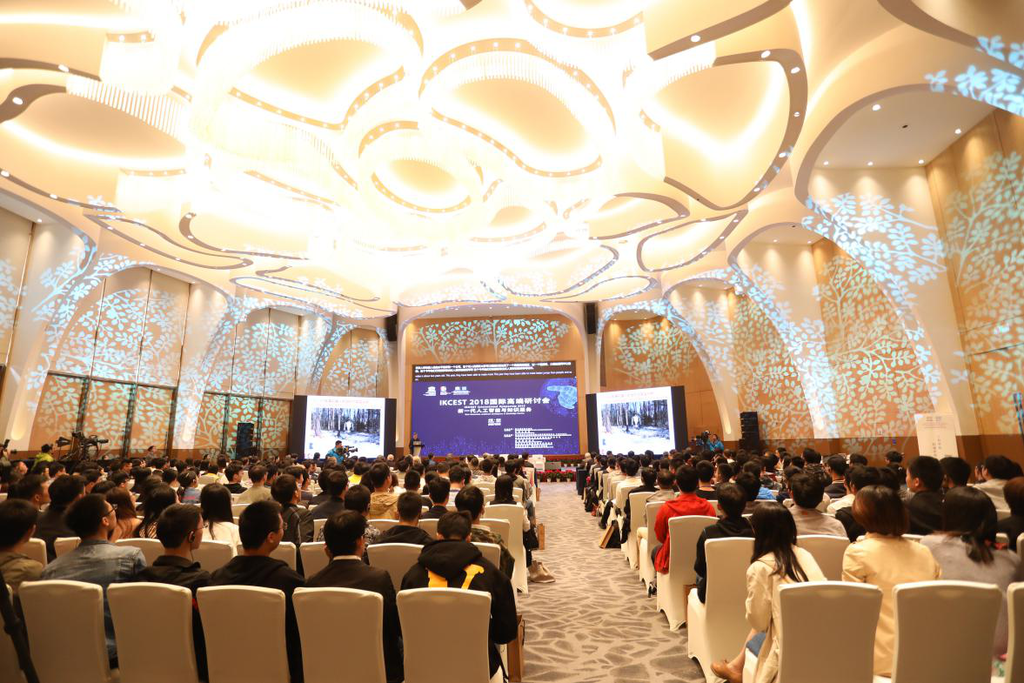 Script: IKCEST Secretariat
Photo: Zhao Linkun